New book 'The Art of Healthcare Innovation' presents interviews and industry insights from 35 game-changing pioneers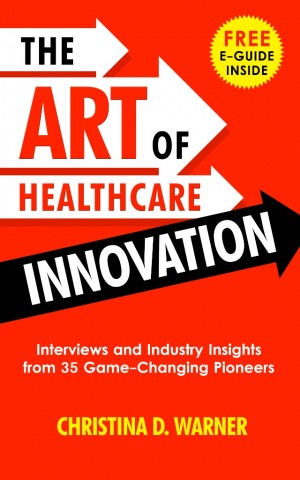 For those who have wondered what it would be like to sit down with the next Steve Jobs or Mark Zuckerberg of the healthcare industry, this new book would be a delight. Columnist and healthcare professional Christina D. Warner know first-hand and plans to share that wealth of insight with the October 2019 release of The Art of Healthcare Innovation: Interviews and Industry Insights from 35 Game-Changing Pioneers. For writing this book, she has conducted over 200 interviews, collecting candid answers from the Global Health Leader of Cisco Inc., healthcare entrepreneurs, well respected scientists, individuals from Forbes' 30 under 30 in healthcare, and a former executive producer for Bloomberg TV who now hosts the globally distributed TV show Beyond Innovation – among many others.
Warner's book is inspiring hope in medical professionals, students, patients, and their families, and anyone with an entrepreneurial spirit who can appreciate what can be achieved when an idea is put into action. The book Art of Healthcare Innovation will allow the user to discover how healthcare changes will impact people, both personally and professionally. The information is coming out from the pioneers who share their secrets and predictions for the healthcare industry. The book features fascinating and shocking discoveries that will shape and create Healthcare 2.0 into the next decade. The readers can utilize this information to keep up with the advances in the healthcare industry and reap rewards for their knowledge in both the present and the future.
Some of the healthcare leaders featured in this book are Ruth Williams-Brinkley, President, Kaiser Foundation Health Plan and Hospitals of the Northwest, Ruth Williams-Brinkley, President, Kaiser Foundation Health Plan, and Hospitals of the Northwest, Brian Caveney, MD, JD, MPH. Enterprise-Wide Chief Medical Officer of LabCorp, Shaden Marzouk MD, Ph.D. Managing Director, Health, AXA, former Chief Medical Officer of Cardinal Health and Deborah C. Beidel, Ph.D., ABPP, Director of UCF RESTORES® among others.
The pioneers share current innovative trends and how they will change the world, success habits and life philosophy, advice for how to future proof your career and more. The book is suitable for entrepreneurs, healthcare workers, and consumers, who want to plan a future in the healthcare industry, prepare for new trends and avoid failed businesses.
Through this book, the readers can anticipate where the healthcare industry is going and secure their position accordingly. The book is available for purchase in Kindle format on Amazon.com.
About Author: Christina D. Warner is a healthcare marketer at a top Fortune 100 and a regular columnist for Authority Magazine and Thrive Global, known for her thought pieces on the intersection of cutting-edge healthcare, marketing innovation, and executive interviews and has been quoted in numerous publications including Forbes and IvyExec.
Find more about her at www.christinadwarner.com
Media Contact
Company Name: The Art of Healthcare Innovation
Contact Person: Christina D. Warner
Email: Send Email
Country: United States
Website: christinadwarner.com