Healthcare, Innovation, And Social Entrepreneurship Launches at Johns Hopkins
Biotechnology Health Science Intensive Program; Zuri Obado, Program Advisor And Philip Harding, Harvard Graduate And Co-founder of IMPACTJUNKIE Build Efforts in Guatemala
August 23, 2019 – Healthcare innovation is a big need for development in underserved communities around the world. Access to healthcare requires some of the best innovators to think critically for solutions with challenges like limited electricity, developing infrastructures, and need for training skilled healthcare professionals throughout Central America.
Zuri Obado traveled to Guatemala City and Antigua with the IMPACTJUNKIE Healthcare Innovation team on behalf of Johns Hopkins University to host roundtables and workshops with key stakeholders in healthcare, education, government, and community to ignite entrepreneurship and innovation. As such, innovation creates new businesses and is the fundamental source of growth in business and industry. It is the biggest need in other countries – do innovation and impact well.
Currently, Zuri is the academic advisor of the Health Science Intensive program, a concentration within the masters of biotechnology degree at Johns Hopkins University. Her team launched a new initiative to infuse entrepreneurship — problem solving techniques and innovation in its core curriculum for pre- medical students entering the program.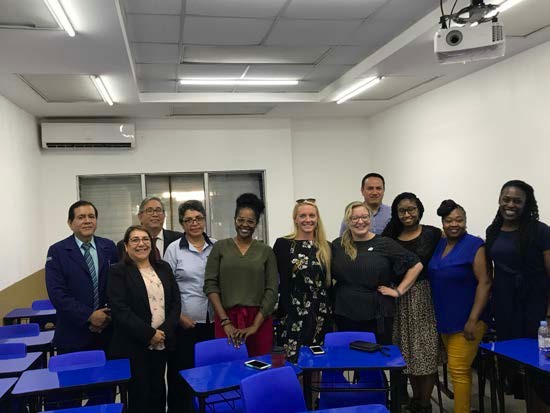 Philip Harding, founder and CEO of IMPACTJUNKIE and adjunct faculty member created the program to address the need for healthcare innovators among physicians and potential healthcare start-ups. Since its creation, this program is now being requested by universities and other healthcare education programs in Latin America. Ariel Jones, graduate student of the program experienced the pilot course in the 2018 – 2019 academic year and also joined the healthcare innovation team with IMPACTJUNKIE in Guatemala (more about Ariel Jones here).
In partnership with the U.S. State Department, Zuri presented her innovative work at Johns Hopkins University and the simple "how to" for healthcare innovation in the Healthcare Innovation Roundtable held at the Walt Whitman American Center in Guatemala City. The audience included the top leaders in telemedicine companies for Latin America, a marine biologist launching a bio-reusable product for amputee wound healing, leaders in focused health education to reduce hypertension and diabetes, and a Full Bright scholar conducting research in the midwife community for rural Guatemala — to name a few. She even connected with a telemedicine company doing work in Guatemala and in Kenya where her extended family is currently. The power of connection and access to a global community are key to eliminating big problems in healthcare around the world.
Zuri also participated in the roundtable discussion with director and communications lead of the Central America Healthcare Initiative, a program based at the INCAE Business School in Costa Rica. This open relationship could provide students with opportunities to continue studies and internships in the Latin America region.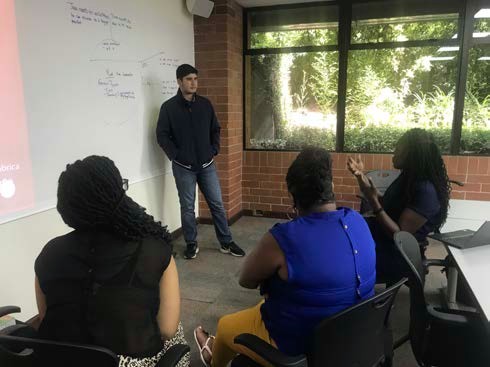 The invaluable experience was echoed by one of the attendees, "This session helped me dream bigger and to know I am not alone in solving these big healthcare problems in my own country."
She also presented the program to Dr. Federico Guillermo Alfaro Arellano, dean of the medical school of the Universidad Francisco Marroquín, and the provost of academic affairs and their healthcare education department of Da Vince University. Zuri also worked alongside students, specifically helping an entrepreneur move from idea to action for his agriculture based company in the business school at the Universidad Francisco Marroquín. She also was part of an information session with one of the leading midwives in a rural community outside of Antigua in Guatemala.
These sessions and the whole trip experience were part of the healthcare innovation program with IMPACTJUNKIE to inspire impact entrepreneurs and investors to look at Central America as a thriving marketplace of opportunity. This is part of the global mission to unleash those like Zuri Obado with the skills and talents to provide innovative solutions.
For more information or how to get more involved, email [email protected].
Media Contact
Company Name: IMPACTJUNKIE
Contact Person: Philip Harding
Email: Send Email
Country: United States
Website: https://impactjunkie.co/